Payment
We will not disclose your personal information to any outside organization for its use in marketing without your consent,If you would like to contact us for any reason regarding our privacy practices.
Payment Method
We accept PayPal payment,Also you can pay with your mainly credit card by paypal.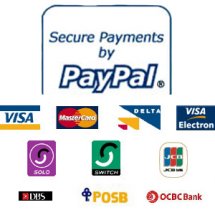 Payment Processing
We are proud to have partnered with PayPal to offer secure and convenient payment options to our customers. We are completely PCI compliant to prevent fraud and guarantee our customers a secure online shopping experience.
1. If you have paypal account, you can pay your order by your paypal account.
2. If you don't have paypal account, it doesn't matter. You can also pay via paypal with you credit card or bank debit card. 
3. Internationally accepted, no matter where you are!
4. Paypal accept all major credit cards.