Similar sponsored items - HASEE BTY-M66
COMPAL EL80,EL81,GL30,GL31,HEL...
Battery Type: Lithium-ion Voltage:11.1V Capacity: 4800mAh
BTY-M66 laptop battery for :CBPIL48 - COMPAL EL80,EL81,GL30,GL31,HEL80,HEL
Specifications

Brand: HASEE
Type :

Li-ion

Voltage :

10.8V

Capacity :

7200mAh

Color:

black

Compatible Part Numbers: 261750261751 1034T-003 1034T-004260730 6-87-M66NS-4CA 906C5040F 906C5050F 908C3500F 90NITLILD4SU1 90NITLILG2SU1 916C4230F 916C4540F 916C5110F 916C5180F 916C5190F 916C5220F 916C5280F 916C5340F 916C7040F 957-1034T-003 980C3890F AS62FM945GM1 AS62FP945GM1 AS62J945PM1 AS62JM945PM1 AS96F945GM1 AS96H662MX1 S62FM S62Fp S62J S62JM S96F S96H S96J
Compatible Model Numbers: (Can not fit BATEL80L6, BATEL80L9, BATFL91L6)
BATSQU511, C.201S0.001, CBPIL44, CBPIL48, CBPIL52, CBPIL72, CBPIL73
GC020009Y00, GC020009Z00, GC02000A000, GC02000AK00, GC02000AM00, GC02000AN00,
GC02000AU00, GC02000AV00
ID6, ID6-2200, ID9, IDST-9, BTY-M66
S91-0300240 -CE1, S91-030024X-CE1, S91-0300250-CE1
SQU-503, SQU-511, SQU-524, SQU-528, SQU-529, SQU-601, SQU-706, SQU-718,
ASUS
Asus 3UR18650F-2-QC-11, Asus 90-NI11B1000, Asus 90-NIA1B1000, 90-NE51B2000,
Asus 90NITLILD4SU1, Asus 90-NFV6B1000Z, Asus S9N-0362210-CE1,
Asus A32-F2, Asus A32-Z94, Asus A32-Z96

BENQ
BenQ 2C.201S0.001

MITAC
Mitac BATEL80L6, Mitac CBPIL44, Mitac GC020009Y00, Mitac GC020009Z00, Mitac GC02000AM00, Mitac ID6

PACKARD BELL
Packard Bell A32-Z94

Philips X58 / Model: EAA- 89

SANYO
Sanyo 3UR18650F-2-QC- 11261750261751

Advent

5401 7093 7111 7203 7205 7206 7301 8315 Serie
ERC430 QC430 QRC430 QT5500 Sieres

Asus A9 Serie
Asus A9, Asus A9T, Asus A9Rt, Asus A9W, Asus A9R, Asus A9C

ASUS A95 Serie
A95, A95Rp, A95T

Asus S62, S96

Asus F2 Serie
Asus F2F, Asus F2Hf, Asus F2J, Asus F2Je

Asus M50 Serie
Asus M50Sa, Asus M50Sr, Asus M50Sv

Asus M51 Serie
Asus M51A, Asus M51Kr, Asus M51Se, Asus M51Sn, Asus M51Sr, Asus M51Ta, Asus M51Tr
Asus M51Va, Asus M51Vr

Asus Z53 Serie
Asus Z53J, Asus Z53Jc, Asus Z53T

Asus Z9 Serie
Asus Z9T, Asus Z94, Asus Z9400, Asus Z9400RP, Asus Z94L, Asus Z94RP, Asus Z96, Asus Z96J

Asus X5 Serie
Asus X52, Asus X53, Asus X55, Asus X56

Asus pro 31F

ASI AMATA
ASI AMATA Laptop
EL80N, S96E, S96J, S96S

BENQ
BenQ Joybook R55 Serie
BenQ Joybook R55, P51E

California Access M158N

Chem USA
ChemBook 4030, ChemBook 4031, ChemBook 4080, ChemBook 4081

CLEVO
Clevo MobiNote M660 Serie
Clevo MobiNote M660JE, Clevo MobiNote M660N, Clevo MobiNote M660S

Clevo MobiNote M661 Serie
MobiNote M661N

Clevo MobiNote M665 Serie
MobiNote M665JE, MobiNote M665N, MobiNote M665S, MobiNote M66JE

COMPAL
Compal Laptop Serie
Compal EL80, Compal EL81, Compal GL30, Compal GL31
Compal HEL80, Compal HEL81, Compal HGL30, Compal HGL31

GREATWALL
GreatWall Laptop Serie
GreatWall T50

Gigabyte
W551N W566N W566U W468N W5661N 5661U

HASEE
Hasee W Serie
Hasee W750T, Hasee W740T, Hasee W370T

LG F1 Serien
F1-2224A, F1- 2225A9, F1-2226A, F1-222EG,
F1-2235A9, F1-2245A9, F1-224EG, F1- 2255A9,
F1-225EG, F1-225GY, F1-226EG, F1-227EG,
F1- 227GY, F1-228EG, F1-228GY, F1-22PTV,
F1-2324A, F1-2325A, F1-23MMV, F1-23PXV,
F1-2A24A, F1-2A26A, F1-2A27A, F1-2A36A,
F1-2A3GY, F1-2A4GY, F1-2AE9G, F1-2ARNV,
F1-2K25A9, F1 EXPRSS DUAL, F1 PRO EXPRSS DUAL

MITAC/IPC
Mitac Laptop Serie
Mitac EL80, Mitac EL81

MSI
Msi Laptop Serie
Msi MEGABOOK M1034, Msi M655, Msi M660, Msi M660m, Msi M662
Msi M673, Msi M675, Msi M677

GIGABYTE
Gigabyte W451U, Gigabyte W551A, Gigabyte W551U Serie

JETTA
JetBook 8500S Serie, JetBook 9700P, JetBook 9700S
JetBook C250P Serie, JetBook C250S Serie

MAXDATA
Imperio 8100IS
Maxdata Pro 600IW, Maxdata Pro 6100I, Maxdata Pro 6100IW, Maxdata Pro 8100IS 8100IW 8100IWS

Micro-Star International
MegaBook M655 Serie, MegaBook M660 Serie, MegaBook M662 Serie, MegaBook M670 Serie
MegaBook M673 Serie, MegaBook M675 Serie, MegaBook M677 Serie
Micro-Star MS1034 Serie, Micro-Star MS1039 Serie

NEC versa P570 M370 Serie

Notebookguru TW7N M66SRU M67SRU Serie

Nobilis N420Q Serie

One C6520 Serie

PC Club
PC Club EnPower ENP 630, PC Club EnPower ENP 680, PC Club EnPower ENP 68004
PC Club EnPower ENP630, PC Club EnPower ENP680, PC Club EnPower ENP68004

Packard Bell
EasyNote J2, J2400

Philips Freevent X54 X57 X58 X72 15NB57

QUANTA
Quanta SW1, Quanta TW3, Quanta TW3A, Quanta TW3M, Quanta TW5

SEANIX
Seanix SeaNote SN238, Seanix SeaNote SN238A-1

Terra
M660NBAT-6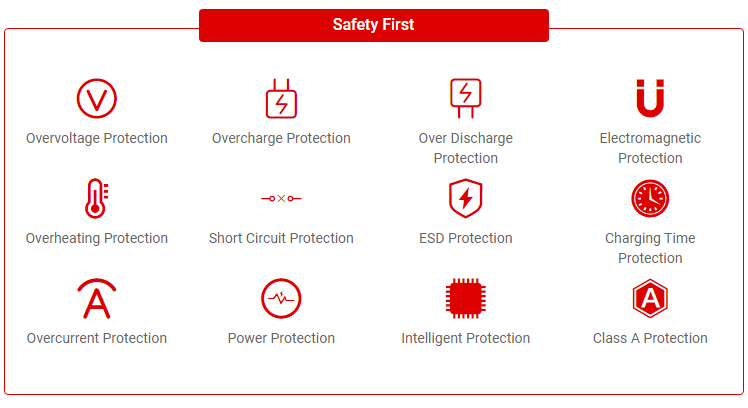 30-Days Money Back Guarantee
We promise that if you are not satisfied with the battery for Hasee BTY-M66 which you ordered, you can return the battery and we will refund the amount you spent on the purchase within 30 days.
One-Year Warranty
We are absolutely confident of our sound batteries and offer one year warranty on the Hasee BTY-M66 battery replacement.
100% Security Payment
For the security of your account, our payment methods are safe and trustworthy. We protect every client's privacy, so please buy with confidence!

* HASEE model Laptop Batteries
HASEE Laptop Battery (Our Popular Products )
- Facebook board delays decision about Trump's possible return
- Google Earth time-lapse feature winds clock back 37 years